Probate Contents Valuations
Our expert probate team are experienced in dealing with probate valuations with the utmost respect, under difficult circumstances
Get a free instant online quote now
Probate Valuations
House Contents Valuations for Probate
Cullens can provide probate valuation services across parts of London and Surrey to solicitors, executors, administrators, and individuals dealing with an estate. The trusted, local choice of house contents valuation for probate.
Our probate team are experienced in dealing with probate valuations in difficult circumstances surrounding the passing away of a loved one, friend or family member. All contents and chattels within an estate are subject to the probate process, of which any and all outstanding debts and inheritance tax are paid through the sale of contents within the estate. Cullens can support you through this process by providing a full probate contents valuation service.
Did you know? Cullens are recommended, vetted and monitored by Checkatrade, where previous customers have rated our service as excellent with an average rating of 9.9 out of 10.
Get a free instant online quote for a probate valuation, or call us on 0800 033 7930 to speak to a member of our team.
Start Quote
A simple guide to House Contents Valuations for Probate
We have provided a short step by step guide to help you understand the process of getting a house contents valuation for probate.
Contact us by phone, email or using the online contact form
Talk to our probate team about the details of the estate
Our team will provide a price for your probate valuation
Schedule a visit from our probate team
Please make all valuables and items to be included in report available for our team before the visit
During the visit, we will work to identify the true market value of chattel of the estate and take photographic/written evidence for desk research
After the visit, our probate team will complete desk research for valuing house contents for probate
We compile the probate contents valuation report (electronic version is included in original price while hardcopy paper versions will incur an additional charge)
Our probate team can send the probate contents valuation report to the solicitors or executors dealing with the estate
Our probate contents valuation reports are HMRC compliant and structured for form IHT407
You can also read our full free Probate Guide which has an indepth look at what a Probate is and thorough walk through for those new to the process.
Probate Valuation Prices
Cullens provide clear upfront pricing with no hidden costs. The pricing levels depends on the size of the estate.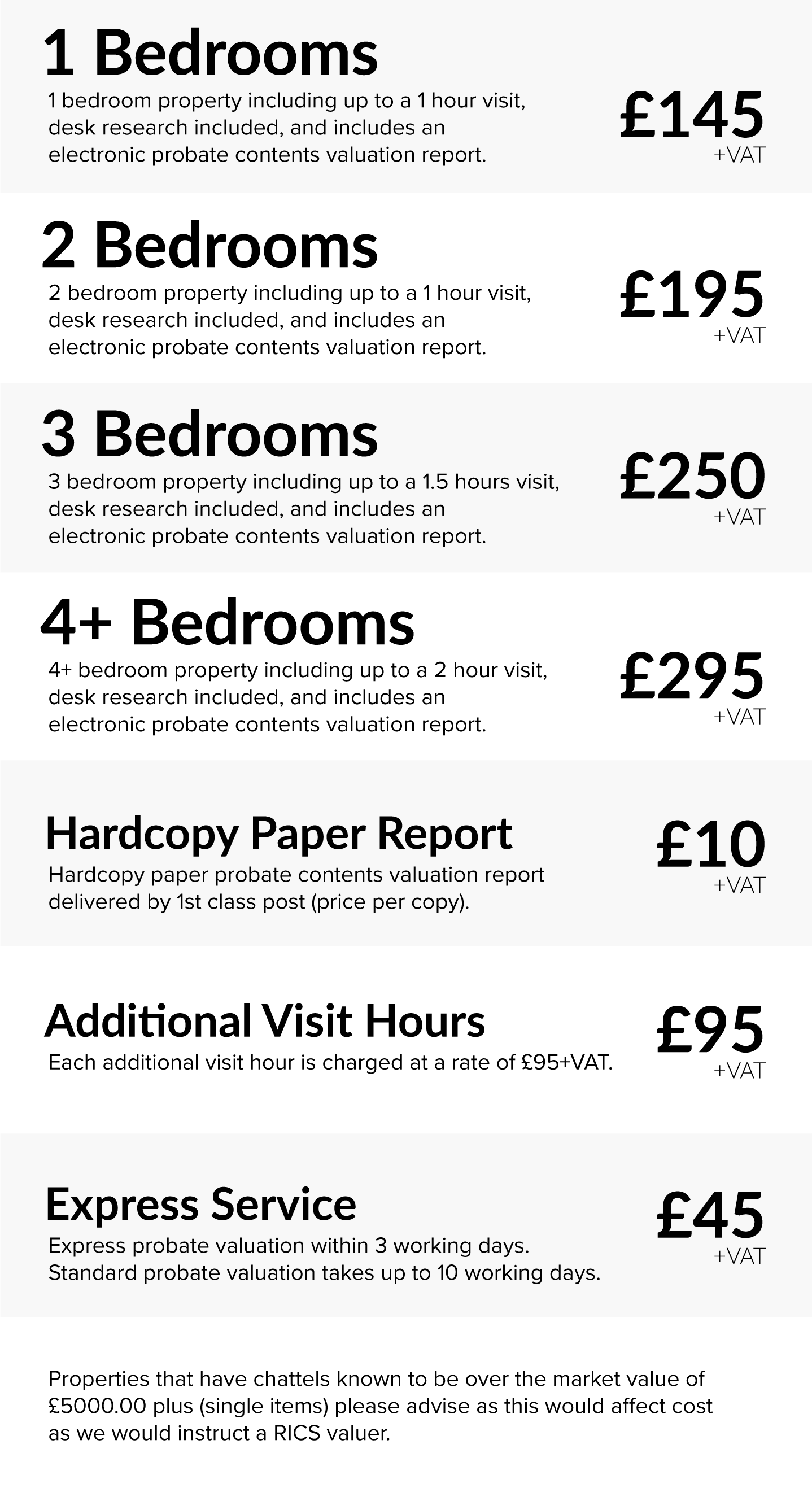 Probate Contents Valuations Explained
Executors and solicitors acting on behalf of a deceased estate are required to commission an independent 'probate valuation' of art, antiques and other personal effects in order to assess Inheritance Tax liability with HM Revenue & Customs. Cullens have experience in this and regularly carry out probate contents valuations of chattels in accordance with Section 160 of the Inheritance Tax Act 1984. We can deal directly with the executors to arrange a probate valuation of the deceased's estate. As part of the probate contents valuation for an Inheritance Tax Assessment, we will list art, antiques, jewellery and general house contents. All work is compiled by an experienced dealer with more than 5 years experience. All valuations are HMRC compliant and our probate contents valuations are prepared professionally and discreetly by our in-house team.
Once the valuation has been carried out, the executors may decide to sell some items from the estate. At Cullens, we have a wealth of knowledge and understanding about the market value of items.
Cullens can provide the following supplementary services:
Offset the cost of items from the estate against a probate contents clearance
Purchase items from the estate
Deliver items from the estate to a specialist auction or dealer on your behalf
If you require any supplementary services please let us know at any time before, during or after the probate contents valuation service.
Probate Valuation Reports
Our probate content valuation reports cover the following aspects:
Household Contents Valuation
Antiques and Fine Art
Jewellery, Collectables and Bullion
Classic Car Valuation (for vintage and classic cars)
Our probate team provide, as standard, an electronic version of the probate contents valuation report. If you require a hardcopy paper version of the report, there is an additional charge.
Your Questions Answered
We understand the probate process is done in an emotional and upsetting stage in someone's life due to a bereavement. To make the process as simple and as stress-free we have created a list of the most frequently asked questions around probate valuations in London and Surrey. If you have any further questions about probate valuations, probate contents valuations or probate chattel valuations, then please get in touch by email at [email protected] or by phone on 0800 033 7930.