Cullens is your local family run clearance and probate company with a depot in the London Borough of Sutton, a warehouse in the London Borough of Croydon, and offices in Caterham, Surrey. Here at Cullens, we provide a comprehensive clearance and probate services to domestic and commercial customers across parts of London and Surrey.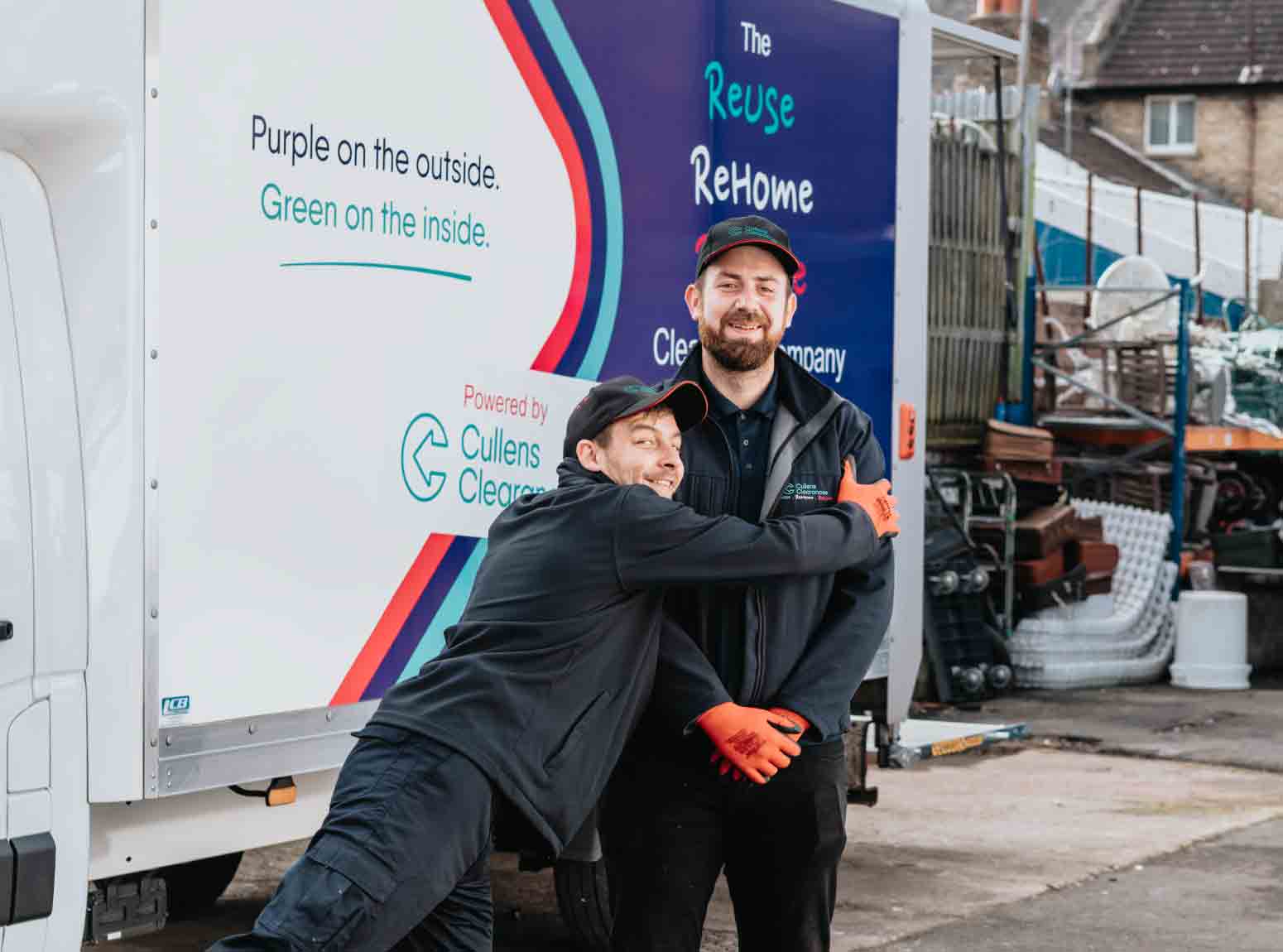 ReUse, ReHome, ReLove™
Every clearance gets our Reuse, Rehome & Relove™ guarantee. 95%+ of all the items we clear get reused and donated to local charities, sorted and recycled at our recycling facility, or upcycled and rehomed with local families.
We made a short video to explain our ReUse, ReHome, ReLove™ guarantee, sit back and enjoy.
A Trusted Family Business
Cullens Clearances is a trusted family business and was founded in 2011 to provide reliable, high quality, and reputable clearance and probate services. Over the years, we have been leading change in our chosen industries by focusing on providing an excellent customer service.
Here is a little more about us:
Free no-obligation quote
Price start from £35+VAT
'ReUse, ReHome, ReLove' Guarantee
Recommended, vetted and monitored by Checkatrade
SafeContractor Approved
CHAS Accredited Contractor
ConstructionLine Approved
Bright Ideas Trust Member
£5,000,000 Public Liability Insurance
Registered Company: 08114693
VAT Registered: 161320550
Environment Agency Registered: CBDU160449
Green Achievers Registered: GAR2569
Planting 1000s of trees with Ecologi
Carbon Neutral offsetting with Ecologi
The Bright Ideas Trust
Our Managing Director, Derrick Hunt, is the man behind Cullens. Since 2011, Cullens has grown and expanded into new sectors and new locations. Our ethos remains our environmental impact, our ethical stance and our excellent standard of customer service. Our growth is in part due to the hard work and talents of our team but also in part to the Bright Ideas Trust who have supported us from the beginning. The Bright Ideas Trust, set up by the first winner of BBC's The Apprentice Tim Campbell, recognises and supports the focus of our business. The clearance industry is plagued by rogue clearance companies and illegal fly tipping which places further costs on customers and the community. We are working to change this perception and the experience of customers.
Derrick Hunt MD, has also spoken at many events as a Bright Ideas Trust ambassador including at a NEETS event (Young People Not in Education, Employment, or Training) which helps young people find a role in society and their community, and at Bright Ideas Trust Lightbulb Club to tell the story of his entrepreneurial journey.
As Seen On TV
Our team was lucky enough to be the focus of an episode of Drew Pritchard's Salvage Hunters on Quest TV. Derrick showed Drew some of the great things that his team have saved from landfill. Ensuring that as much is diverted from landfill as possible.