Office Clearance Crystal Palace
Your local, professional Crystal Palace office clearance company
Cullens Clearances are the office clearance specialists in Crystal Palace and we have a policy goal of diverting as much as 100% of waste cleared from your office from landfill. By reusing and rehoming most, if not all, of the office equipment and office furniture our service ensures that we can keep our costs low and provide maximum envrionmental benefit.
Choose Cullens for your office clearance Crystal Palace. Whether you need a full clearance service or need to remove a few items then Cullens can help. We have worked on many office clearances in Crystal Palace.
You can find independent customer reviews from on Checkatrade where customers have rated our Crystal Palace office clearance service as excelent with an average rating of 99%.
Get a free instant online estimate for an office clearance service in Crystal Palace, or call us on 0800 033 7930 to speak to a member of our team.
Start Estimate
Crystal Palace Office Clearance Prices
So, how much does an office clearance cost in Crystal Palace? Well, we have a simple price list for you below to make this whole process as simple as possible. Please visit office clearance price list for full guide and FAQs about our prices. You can get a free instant online estimate for our office clearance Crystal Palace service online today.
Office Clearance Crystal Palace Price Guide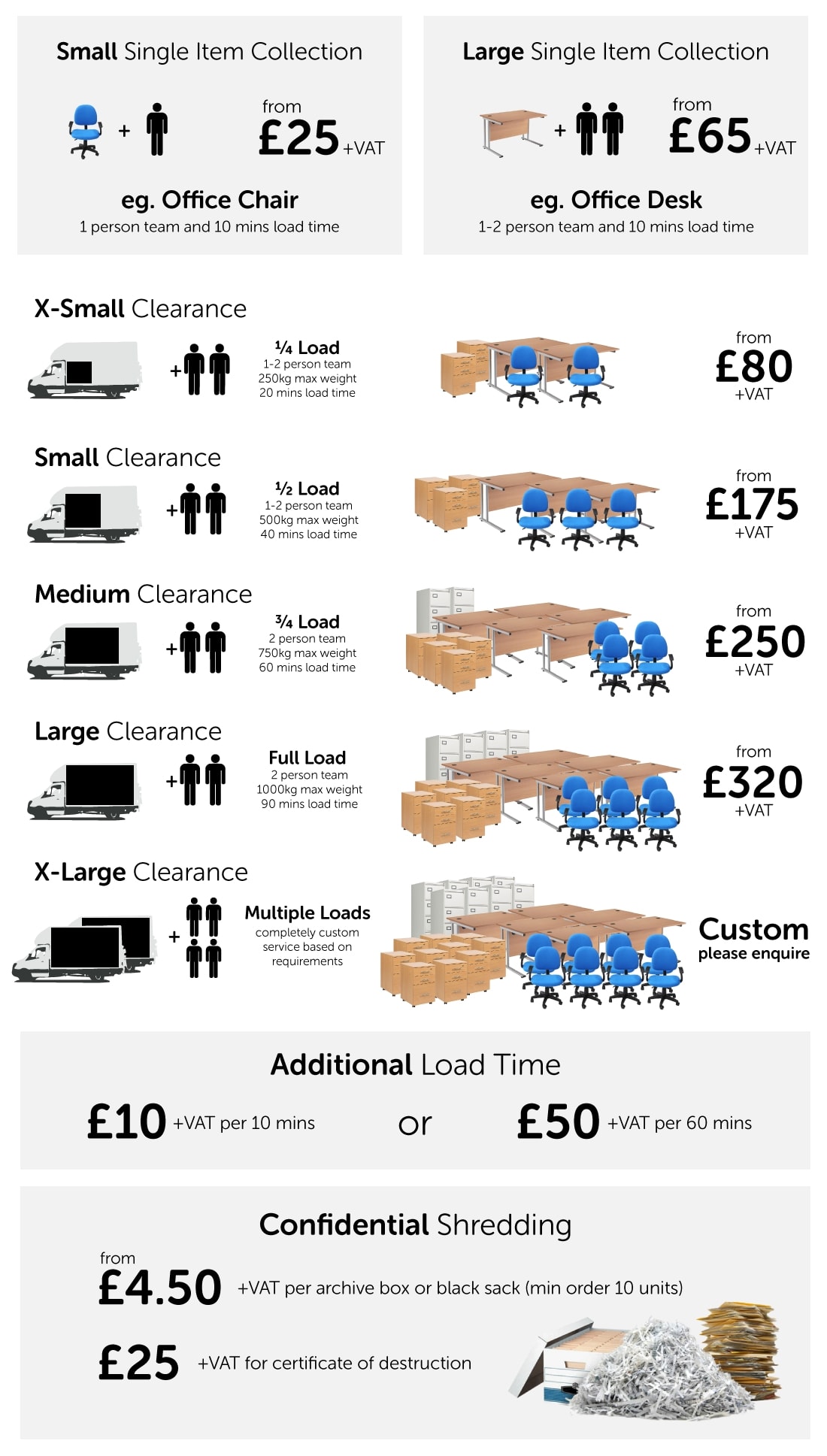 Areas Covered for Office Clearance Services
Cullens works across parts of London and Surrey. Please see our area coverage for a guide to the areas covered for our office clearance services. We are expanding our business which means that in some areas we provide only a limited service level.
How do I book an office clearance in Crystal Palace?
To make booking our services as simple as possible we have created our 6 simple step guide. From start to finish: you select the service you require, such as our office clearance service; check that we offer that service in your area (Crystal Palace); you can use our free instant online estimate tool to get a rough price; and when you are happy to proceed you can book in our service. What happens next is we turn up on time, introduce ourselves, and start working straight away. When the work is complete we sort through the items at our warehouse to divert as much as possible from landfill as per our Reduce, Reuse and Recycle ethos. We ask all our customers to leave a review of our services on Checkatrade.
1 Select Service

2 Check Area Coverage

3 Free Instant Estimate

4 Book Time & Date

5 Work Commences

6 We Recycle & We Review
Frequently Asked Questions
Below are some frequently asked questions regarding our office clearance service in Crystal Palace. You can find company wide questions answered on our FAQs page. Alternatively, if you require further information on our Crystal Palace office clearance service then please do not hesitate to get in touch.
Do you do full office clearances in Crystal Palace?

Yes we are able to assist with office clearances in Crystal Palace either because you are moving to serviced offices and no longer have use of your furniture or the business is having a revamp we are more than happy to discuss your requirements no matter the size of your offices from small home offices to large corporate buildings, we have a solution for you.

What happens with our office furniture?

We are passionate about reusing and rehoming your unwanted office furniture and we always take this into consideration and every clearance is always different so be assured that our quote or site survey is bespoke and the more we can reuse the cheaper our services will be.

Do you buy office furniture?

On occasions mattering on the quality and condition of the items we are able to purchase certain items of office furniture, we are passionate about reusing and with over 10 years' experience we have great service partners that we work with that helps us provide that all in one service either purchasing, clearance or offsetting resell against clearance costs.

If the furniture is not reusable what happens to it?

At Cullens we have built up a wealth of knowledge and experience in making sure your unwanted items are recycled correctly, we have our in house recycling hub and strong partnerships with recycling service partners to make sure if we cannot reuse the items we will split the items in to their recycling streams so that we can divert on average 90+% from landfill. With office clearances it is typical wooden, steel desks, pedestals, and filing cabinets which will be either recycled as biomass or metals recycled and melted down to be reused again.

We only have a small Crystal Palace office can you help?

Yes of course no matter if it is a single desk or a full multi-level office clearance, we have a solution for you and one of experienced staff are on hand to assist in what is the best route.

We do not have office furniture to dispose of, but general rubbish and paper can you assist?

Yes, we are able to assist on all aspects of unwanted waste, be it general waste, recycling, paper waste or confidential shredding we have a service that is suitable for you needs. If it is an ongoing collection such as bags or wheelie bins, we are able to assist and provide special trade prices for ongoing waste collections, call us today and we are more than happy to run through our services.

What items can you clear?

During an office clearance, we can clear most types of items including office furniture; electrical equipment; fixtures and fittings; rubbish and waste; and general clutter. Let us know what items you need clearing for a more accurate estimate.

How much does a Crystal Palace office clearance cost?

Our prices start from £25+VAT for single item collections, such as clearing an office chair, while clearance prices start from £80+VAT. All our prices are determined by volume, weight and load time so each service estimate is unique.

Where do you provide your office clearance service?

We cover Crystal Palace and parts of London and Surrey.